Crisp and golden, simple and tasty. These Italian fried artichoke hearts are one of the best appetizers you'll ever make. And because they're made with staples, they can be whipped up on a whim. Perfect at any time but especially great for gatherings and football Sundays.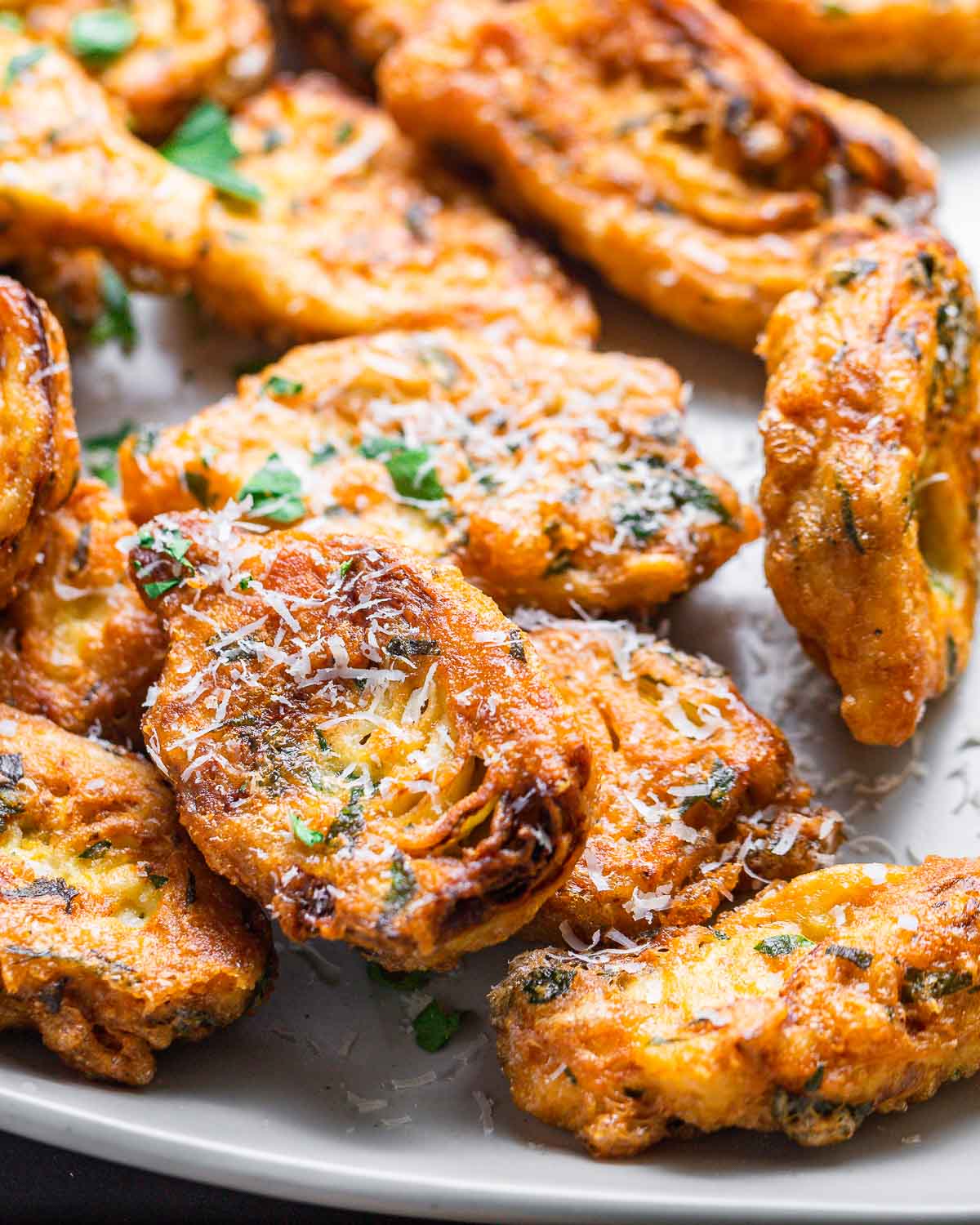 There's nothing like popping an egg-battered fried artichoke heart into your mouth.
The explosive flavor of the artichoke heart beneath the crispy, salty exterior is absolute perfection. I could probably eat an entire plate of them by myself!
But I especially love making these for others - they are popular with both kids and adults alike.
And because I usually have all the essential ingredients on hand, these can be made on a whim.
I realize not everyone keeps canned artichoke hearts in their pantry, but I definitely recommend doing so.
They are so versatile; they make an easy side dish of baked artichoke hearts with seasoned breadcrumbs or can be combined with spinach to make artichoke spinach dip, or blended with lemon, garlic, and walnuts to create an artichoke pesto.
I serve fried artichoke hearts with a side of lemon wedges and some grated Parmigiano Reggiano, but you could certainly serve them with a dipping sauce such as an aioli.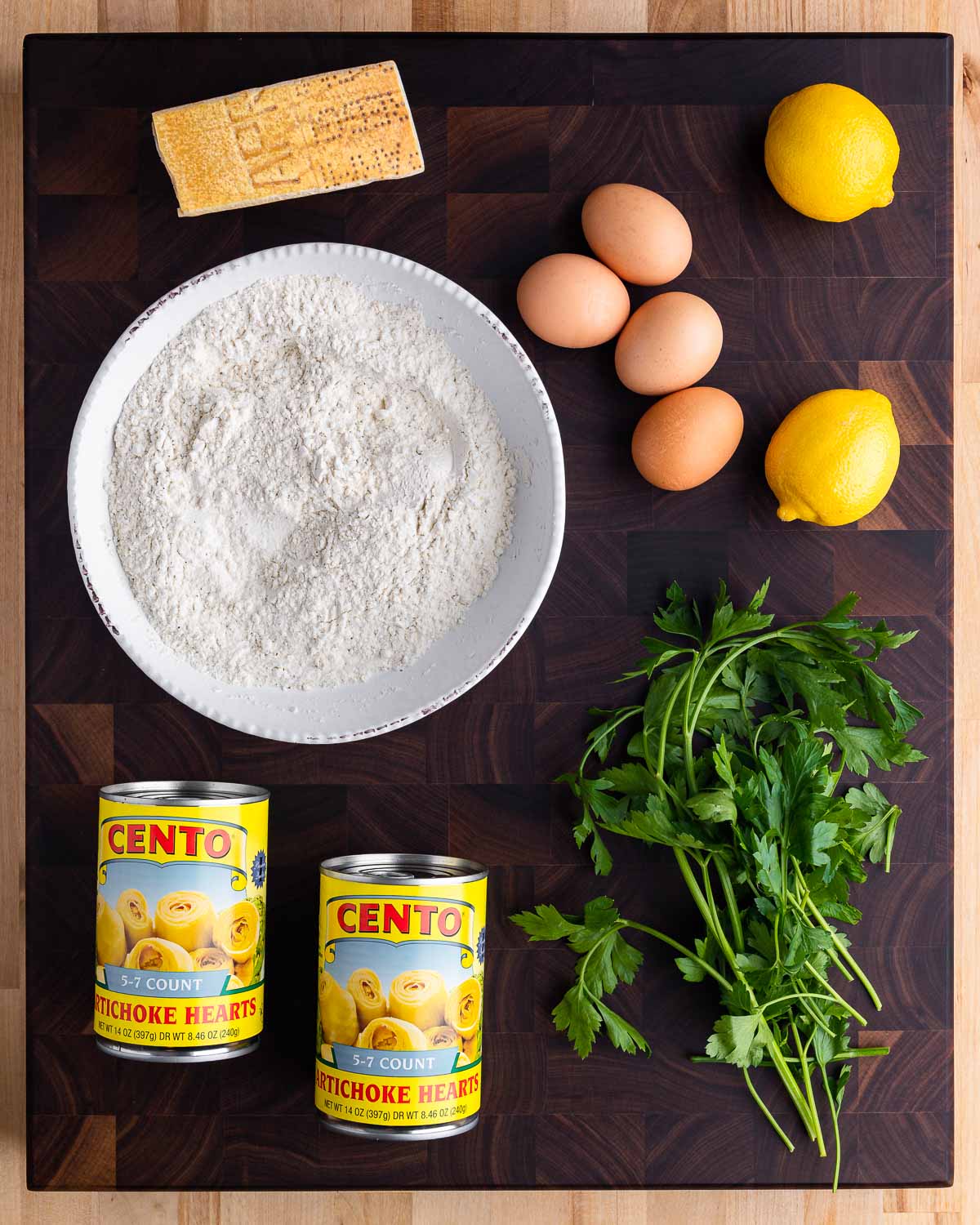 How to make it
Each number corresponds to the numbered written steps below.
Note: Artichoke hearts are sold whole (as in the pic above), halved, and quartered. All three types can be used for this recipe, but I often use whole hearts.
Heat vegetable oil (pour the oil 1-inch high) in a large cast iron or heavy frying pan to 370f. Drain artichokes, cut in half, and gently flatten. Pat dry with paper towels to remove excess water. Note: For accuracy use an oil thermometer to achieve 370f. It will take about 7-10 minutes over roughly medium heat for the oil to reach the temp level.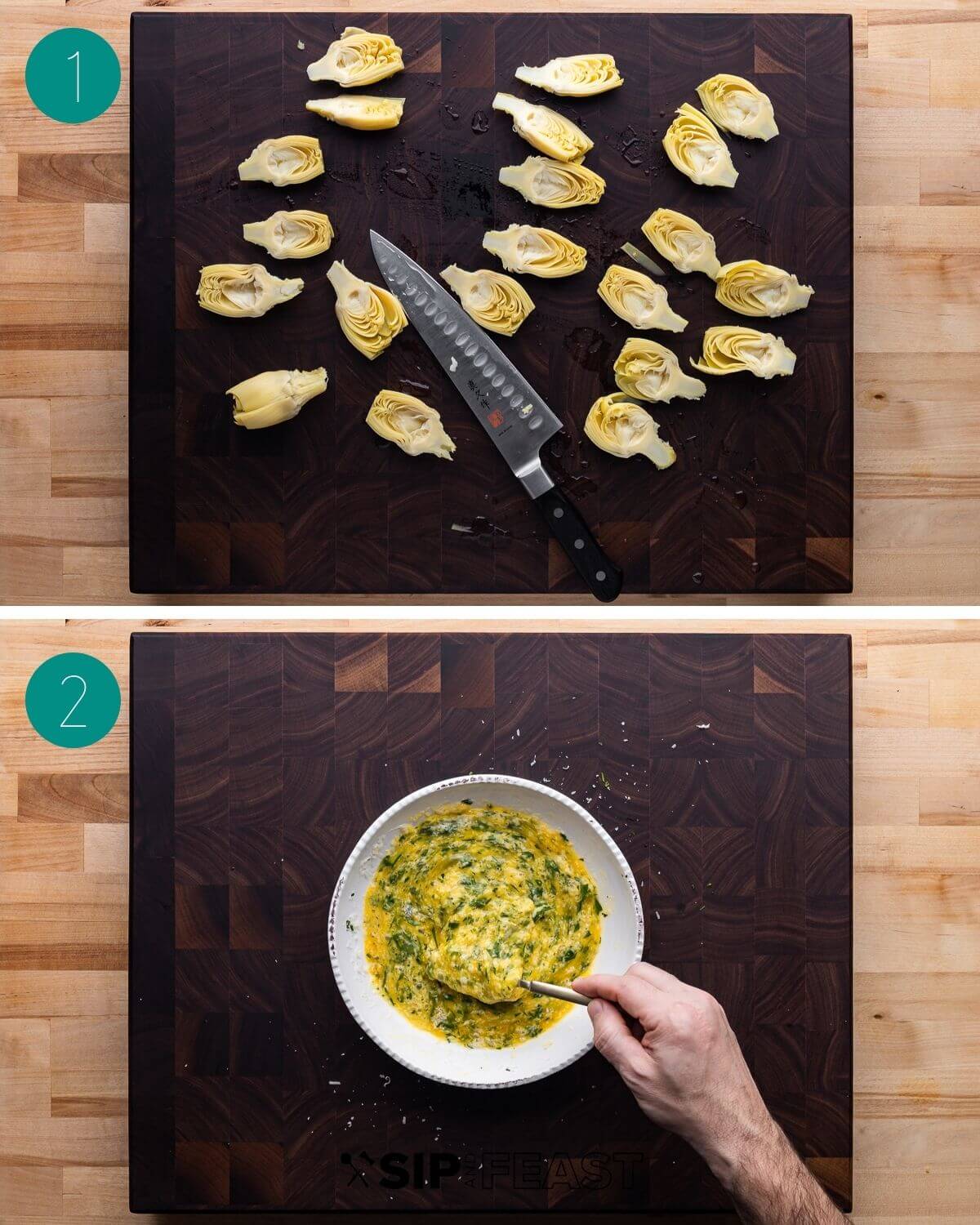 Meanwhile, in a bowl, mix together 3 large eggs, 3 tablespoons grated Parmigiano Reggiano, and 3 tablespoons minced Italian parsley. Also, in another bowl, mix together 1 cup of flour, 1 teaspoon kosher salt, ½ teaspoon pepper, and a ½ teaspoon of garlic powder.
Once the oil hits 370f begin the frying process. Place a few of the artichoke hearts into the flour.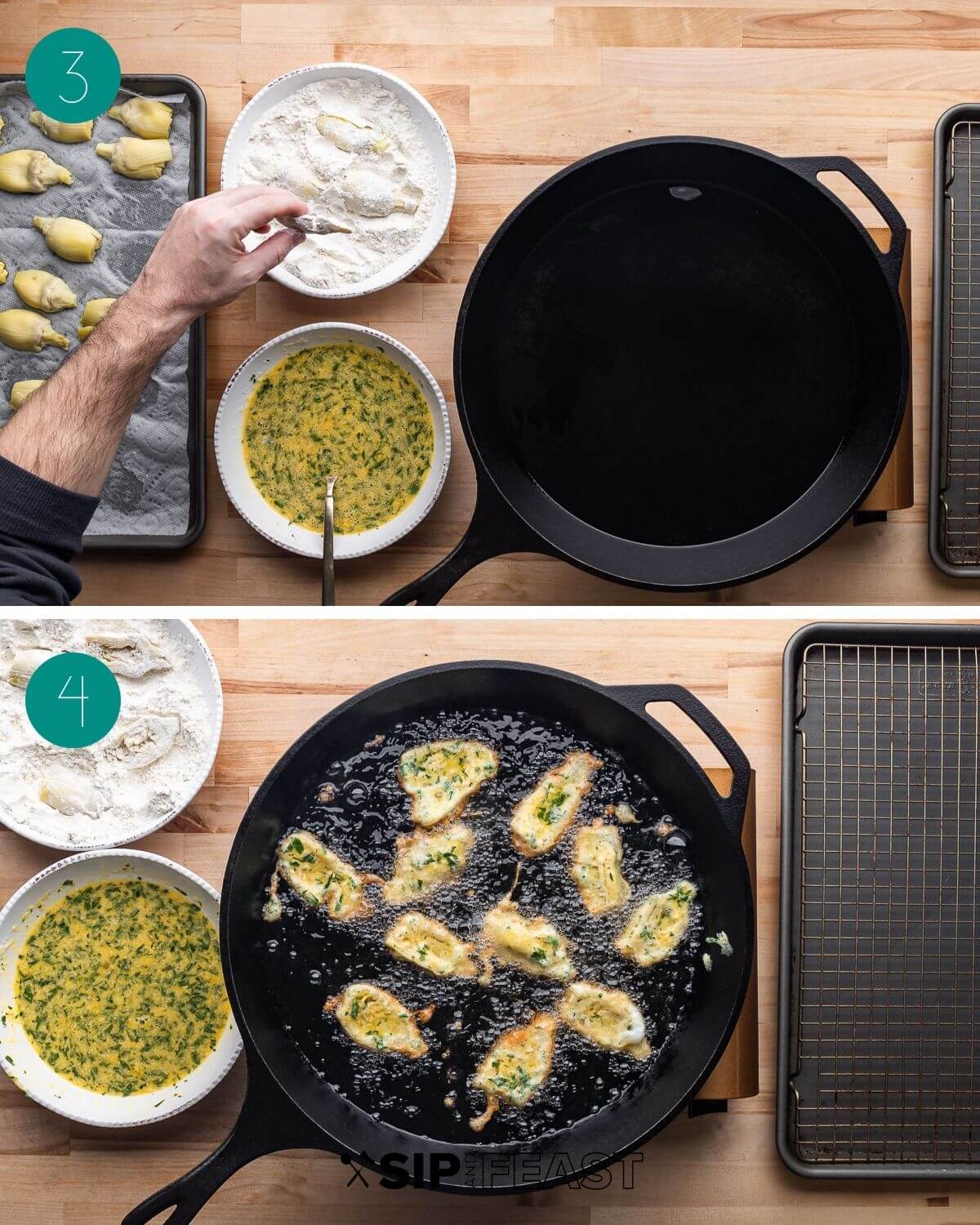 Shake off the excess and place them into the egg batter. Gently add the egg-coated hearts into the oil and fry. Work in batches, making sure to not overcrowd the pan.
After about 3 minutes or once they are golden, gently turn them over and cook for 2-3 minutes longer.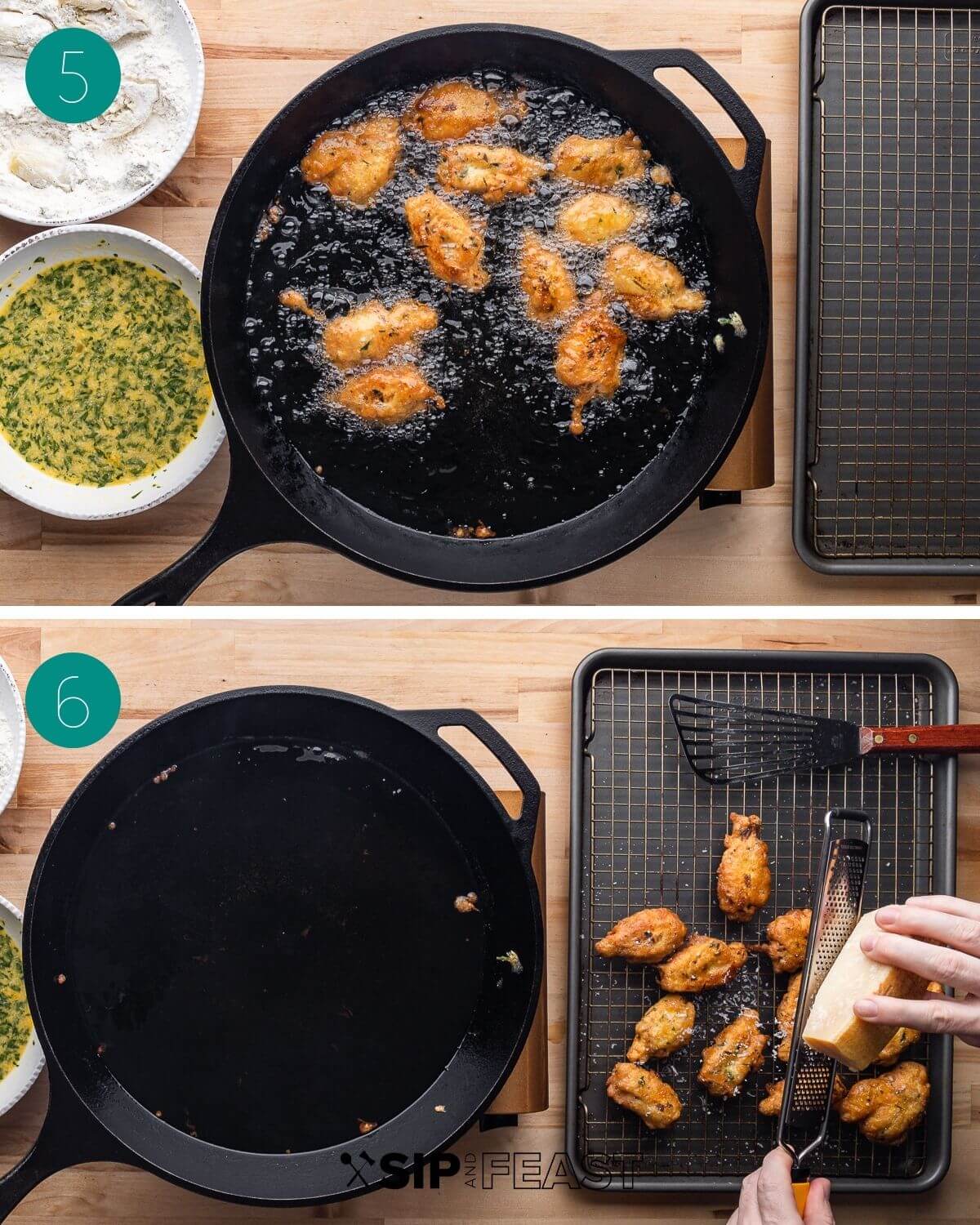 Drain the fried artichoke hearts on a wire rack or paper towel lined dish. Immediately after removing from the oil, sprinkle some kosher salt and grate some Parmigiano onto the hearts. They will absorb both and be so much more flavorful. The fried artichoke hearts can be kept warm in the oven (170-200f) for up to an hour but are best served and eaten right away. Be sure to serve with lemon wedges.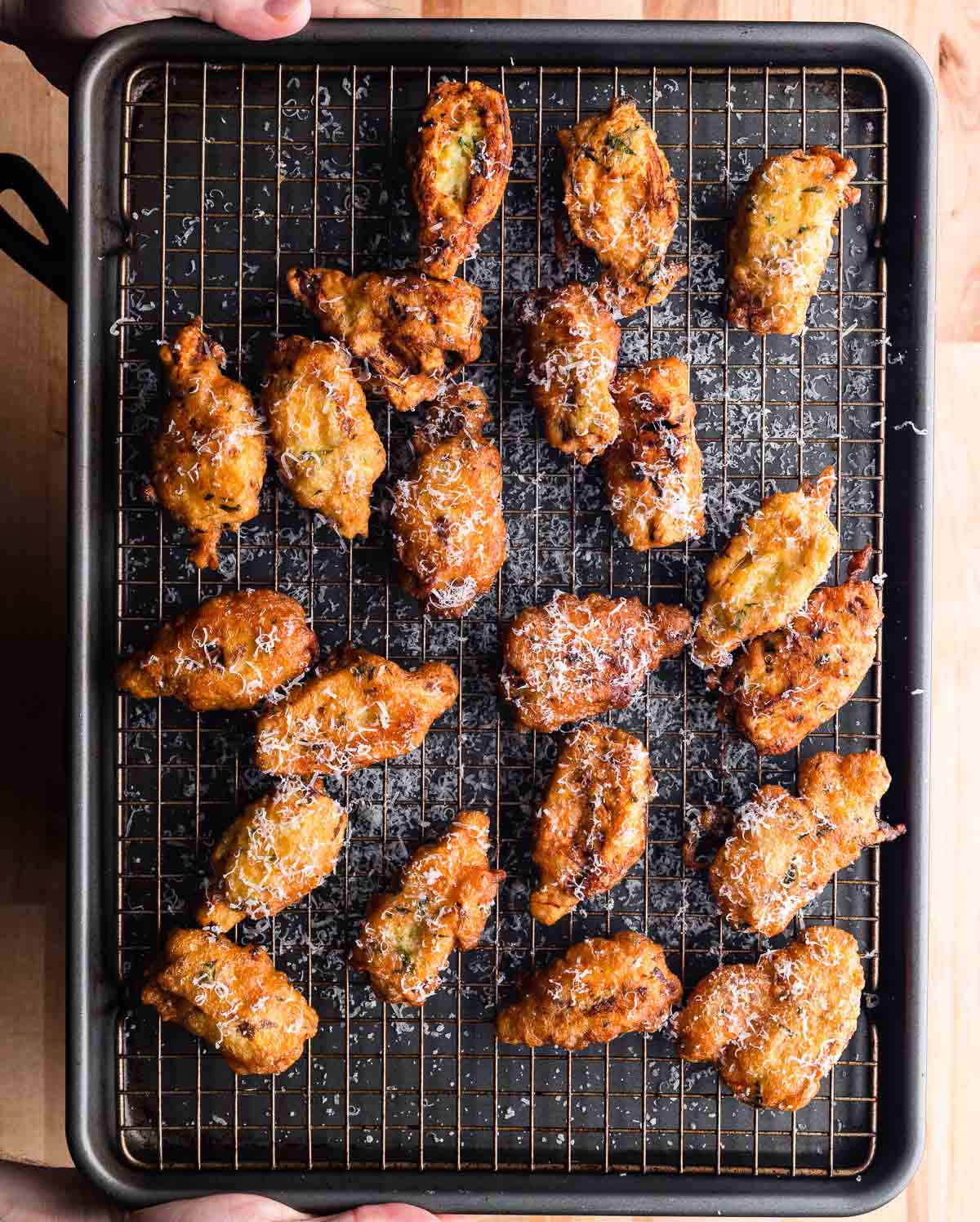 Tips for stand-out fried artichoke hearts
Dry those hearts. One of the first steps after draining the artichoke hearts and slicing them in half is to dry with paper towels. Drying them will help the batter stick better.
Use an oil thermometer. While you can certainly attempt to gauge whether the oil is ready on your own, I prefer to use an oil thermometer for certain recipes, especially when it involves deep frying. The oil for the deep-fried artichoke hearts needs to be around 370f. Using a thermometer like this one will help remove the guesswork and allow for an easier frying experience.
Salt after frying. The best time to salt the artichoke hearts is immediately after they're removed from the oil. This holds true for any fried food, such as baccala fritters or zucchini fritters. I also hit them up with extra grated Parmigiano Reggiano for good measure.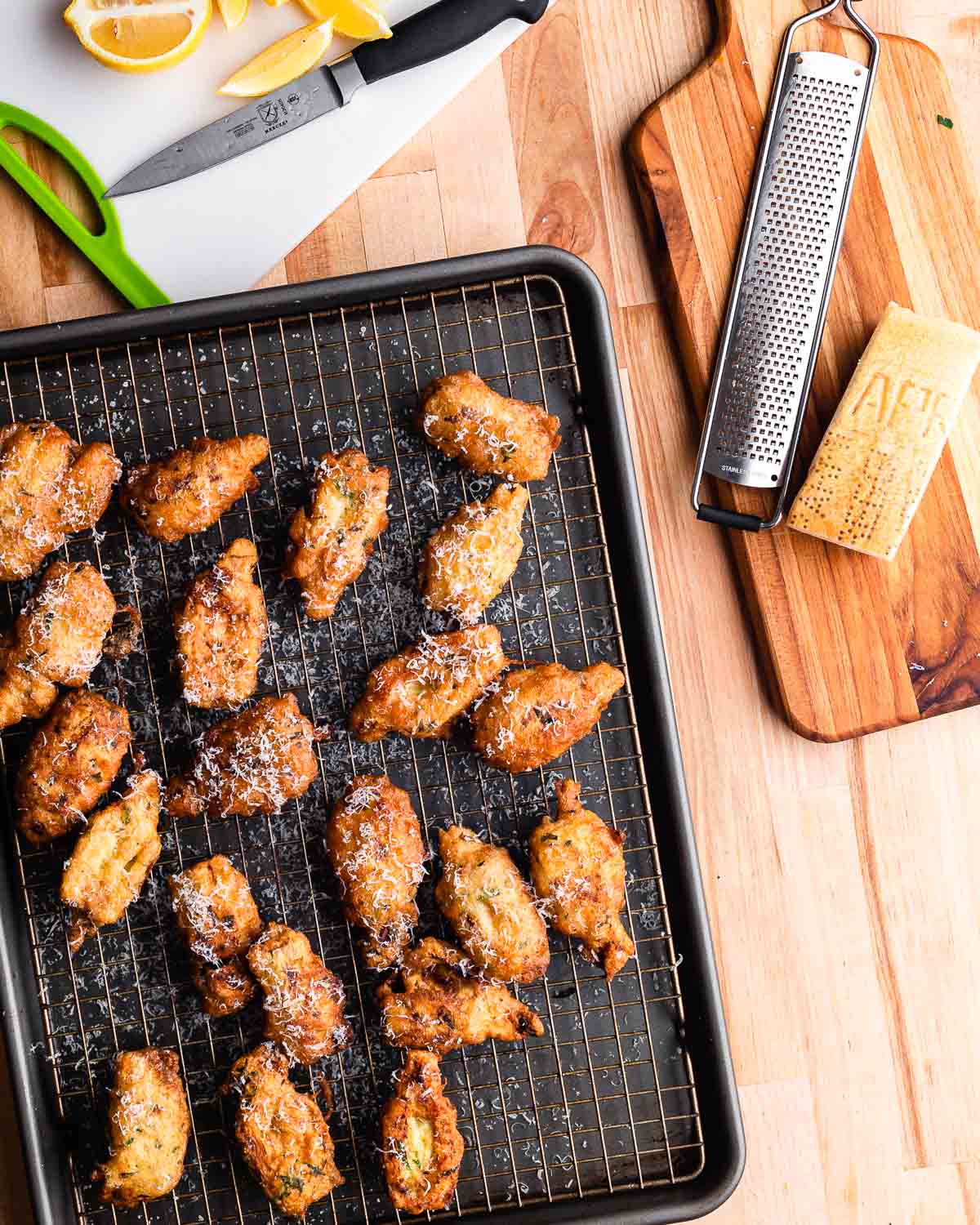 More great appetizers
Italian fried artichokes are the perfect appetizer for holidays and gatherings.
I especially love having these on Superbowl Sunday! Here are a few of my favorite appetizers that I think you'll also love.
If you've enjoyed this Italian fried artichokes recipe or any recipe on this site, give it a 5-star rating and leave a review.
Some people learn by watching. If you're that type of person, you can find most of our recipes on YouTube and our Facebook Page.
📖 Recipe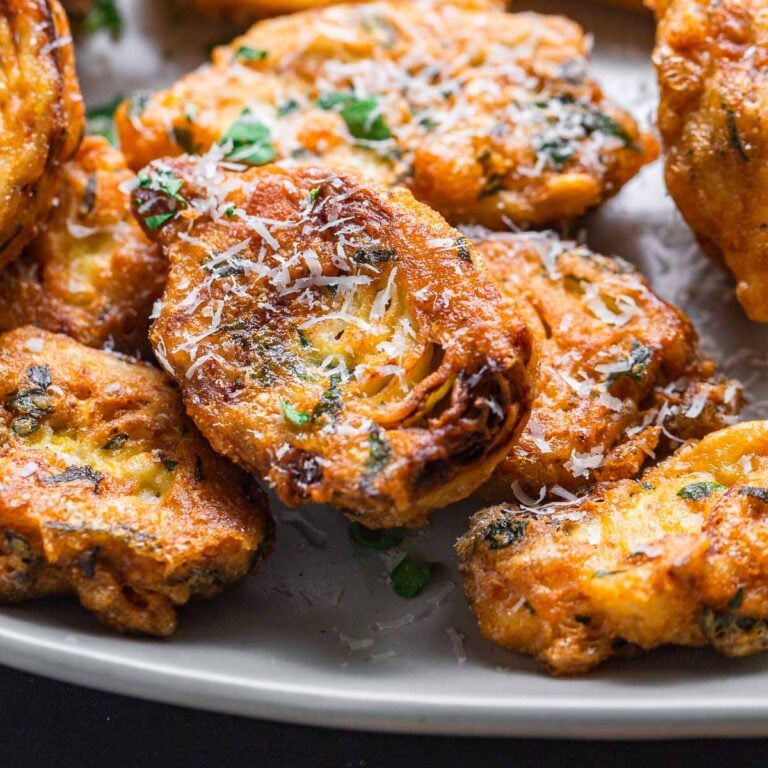 Ingredients
2

15 ounce

canned artichoke hearts

sliced in half, gently flattened, and patted dry

2

cups

vegetable oil

or enough to fill pan at least 1 inch high

2

tablespoons

Parmigiano Reggiano

sprinkle after frying

kosher salt

sprinkle after frying

1

large

lemon

cut into wedges
flour mixture (mix together)
1

cup

flour

for dredging

1

teaspoon

kosher salt

½

teaspoon

black pepper

½

teaspoon

garlic powder
egg mixture (mix together)
3

large

eggs

beaten

3

tablespoons

Parmigiano Reggiano

grated

3

tablespoons

Italian parsley

minced
Instructions
Drain artichokes, cut in half, and gently flatten. Pat dry with paper towels to remove excess water.

Meanwhile, heat oil (use enough to fill pan at least 1 inch high) in a cast iron or heavy pan to 360-370f for frying.

Coat the artichoke hearts in the flour mixture and shake off the excess. Then dip the artichoke hearts into the egg batter and fry for about 3 minutes per side or until golden brown on each side.

Place finished fried artichoke hearts on a wire rack to drain. Once they come out of the oil immediately sprinkle more kosher salt and cheese on top. They will readily absorb it and be more flavorful. Work in batches (avoid overcrowding in the pan) until finished.

Serve immediately or keep warm in a low temp oven on a wire rack. Serve with lemon wedges. Enjoy!
Notes
Calorie info is per fried artichoke heart half. 4-5 per individual is a good appetizer portion.
Fried artichoke hearts should be eaten right away though they can be kept warm in a 175-200f oven for up to 60 minutes.
Sprinkling a pinch of salt and grated Parmigiano over the fried artichoke hearts right after frying is essential. They will readily absorb the salt and cheese and taste so much better.
Leftovers can be saved for up to 3 days in the fridge and can be reheated until warm in a 350f oven.
Nutrition
Calories:
78
kcal
|
Carbohydrates:
5.1
g
|
Protein:
2.7
g
|
Fat:
5.3
g
|
Saturated Fat:
1.5
g
|
Cholesterol:
21
mg
|
Sodium:
214
mg
|
Potassium:
13
mg
|
Fiber:
0.6
g
|
Sugar:
0.5
g
|
Calcium:
42
mg