Italian sausage stuffing with parmesan is a favorite holiday side dish full of wonderful flavor from sage, Parmigiano Reggiano cheese, and of course the sweet Italian sausage. Day-old country white bread adds incredible texture to lay the foundation for this dish. Perfect with turkey, gravy, and all your favorite Fall sides!
For some people, it's not Thanksgiving unless there is cranberry sauce, canned or otherwise.
For me, it's not Thanksgiving unless there is STUFFING.
And this Italian sausage stuffing with parmesan cheese is one of my absolute favorite ways to make it.
While day-old country white bread is a star of the dish, nothing shines more than the sausage, in my opinion.
The flavor the Italian sausage imparts on the rest of the ingredients is nothing short of magical, plus if given the opportunity, I will always try and add a bit of Italian flavor to any meal, Italian or not.
Growing up in an Italian-American home, I learned two things when it came to Thanksgiving: Lasagna is a must-have first course/appetizer if you will, and sausage stuffing should always make an appearance alongside the turkey.
How to make it
Each number corresponds to the numbered written steps below.
Begin by cubing a whole 24-ounce loaf of country white bread and placing the cubes on 2 baking sheets. Toast the bread cubes in the oven at 250f for 30-45 minutes or until fairly dry. Flip the bread cubes at the halfway point to further aid in the drying out process. Note: If using stale 1-2 day old bread you can skip this step or toast the cubes for a lesser amount of time. No matter what, you want to start with dry cubes.
Preheat the oven to 375f and set the rack to the middle level. Dice 1 cup of celery and 1 cup of onion. Mince a 1/4 cup of fresh parsley and 3 tablespoons of fresh sage.
In a very large nonstick pan, saute the bulk sausage over medium heat in 2 tablespoons of olive oil. After the sausage is cooked through (about 10 minutes) remove it with a slotted spoon and set aside.
Turn heat down to medium-low and sautee the celery and onions in 4 tablespoons of butter until soft (about 7-10 minutes).
Next, mix the eggs with the low sodium chicken stock, sage, parsley, salt, and pepper. Turn the heat off and add in the bread cubes and pour the egg mixture all over. Gently fold the sausage stuffing together, making sure to coat most of the bread cubes with the stock and egg mixture.
Lightly oil or spread butter on the full interior of a large baking dish. Sprinkle the cup of grated parmesan all over the stuffing and gently fold once more. Add all the sausage stuffing to the baking dish.
Tightly cover with foil and bake for 20 minutes.
Remove the foil after 20 minutes and bake for another 10-15 minutes or until browned on top. For extra color, broil for the last 60-90 seconds but watch carefully!
Top tips
Use dry bread. If possible, buy your bread in advance and let it sit out overnight so it can dry out. This will help reduce your toasting time. Using dry bread is important as it allows the stuffing to maintain structure.
Use a non-stick pan. Using a very large non-stick pan in steps 3-5 will make your life easier by preventing sticking and also by allowing enough size to combine all the ingredients.
Be gentle. Avoid overmixing as you're incorporating the bread with the other ingredients. If you mix too aggressively it can lead to a mushier texture. If you like mushy stuffing, then go for it, but I prefer my stuffing to have a variety of textures, and keeping the bread intact is an important part of maintaining that texture.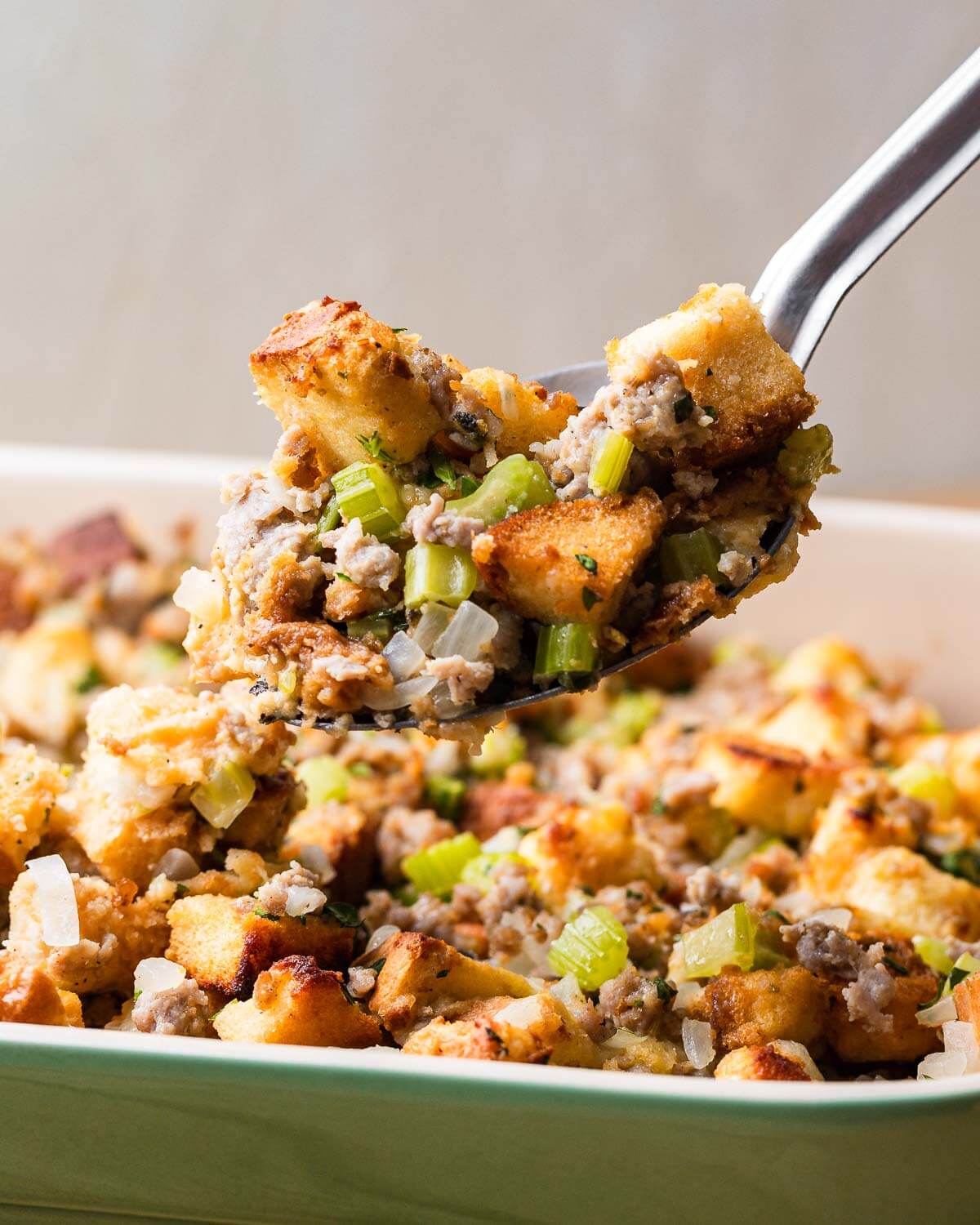 What type of Italian sausage is best for stuffing?
For my Italian sausage stuffing, I used sweet Italian pork sausage without fennel.
You can definitely use fennel sausage if you prefer but it will likely change the flavor of the dish a bit.
I would not recommend using hot Italian sausage for stuffing. The flavor of the hot sausage doesn't pair well with the sage flavor in this dish.
Save the hot Italian sausage for recipes like sausage and peppers and spicy sausage, potato, and kale soup.
If you can find sausage that is out of the casing, this will be your best bet from an efficiency standpoint.
If not, you can simply remove the sausage from the casing on your own.
More Thanksgiving favorites
If you're looking for sausage stuffing, you're probably prepping for Thanksgiving. Here are a few of our favorite recipes, from our home to yours!
If you've enjoyed this Italian sausage stuffing with parmesan cheese recipe or any recipe on this site, give it a 5-star rating and tell us about it in the comments below.
We would love to hear how you did and it's nice to show others as well. Thanks!
Follow us on YouTube, Instagram, Pinterest, and Facebook.
Italian Sausage Stuffing with Parmesan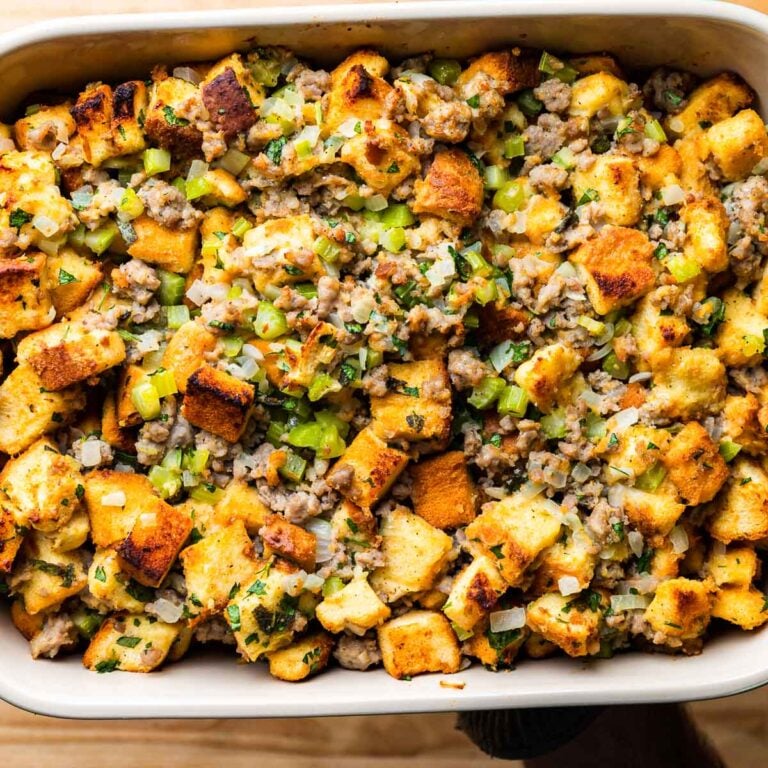 Italian sausage stuffing with parmesan is the perfect complement to any Thanksgiving table. Country white bread is combined with sausage, sage, chicken stock, and Parmigiano Reggiano to create the perfect stuffing!
Ingredients
1

24 ounce

country white bread

see notes below

1 1/2

pound

bulk Italian sausage

or remove casing from links

2

tablespoons

olive oil

4

tablespoons

butter

1

cup

onion

diced

1

cup

celery

diced

2

large

eggs

beaten

1 1/2

cups

low sodium chicken stock

1

teaspoon

kosher salt

1/2

teaspoon

black pepper

1/4

cup

parsley

minced

3

tablespoon

sage

minced

1

cup

Parmigiano Reggiano

grated
Instructions
If using stale 1-2 day old bread, skip toasting. Otherwise, cube bread and toast in the oven on a baking sheet (flip the cubes at halfway point) at 250f for 30-45 minutes or until dry. Remove bread from the oven and turn heat to 375f.

In a very large nonstick pan saute the sausage in 2 tablespoons of olive oil over medium heat until cooked through (about 10 minutes). Remove the sausage with a slotted spoon and set aside.

Using the same pan, turn the heat to medium-low and add in the butter, onions, and celery. Cook until soft (about 7-10 minutes).

Beat the eggs and combine with the chicken stock, salt, pepper, parsley, and sage.

Once celery and onions are soft, add the cubed dry bread and sausage and gently mix to coat. Add in the grated parmesan cheese and the egg/chicken stock mixture, then gently mix once more.

Lightly oil or rub butter on the complete interior of a 10 by 15" baking dish. Fill the baking dish with all the stuffing.

Cover with foil and bake for 20 minutes. Remove foil and bake for 10-15 minutes more or until the top of the stuffing becomes slightly brown and crispy. Enjoy!
Notes
If bread is very dry from being left out, skip the toasting process. But, dry bread is important so that the stuffing maintains some texture.
Gently folding the bread cubes into the sausage and stock is also important to maintain texture. Avoid overmixing or doing so too aggressively.
All of the bread crumbs need to be coated with the chicken stock mixture. If needed, use a bit more chicken stock.
If the stuffing isn't brown enough after 35 minutes of cooking time, feel free to broil for 60-90 seconds, but watch carefully!
Leftovers can be saved for up to 3 days and can be reheated in the microwave.
Nutrition
Calories:
441
kcal
|
Carbohydrates:
30.3
g
|
Protein:
19.4
g
|
Fat:
26.7
g
|
Saturated Fat:
9.8
g
|
Cholesterol:
91
mg
|
Sodium:
1135
mg
|
Potassium:
270
mg
|
Fiber:
1.7
g
|
Sugar:
3
g
|
Calcium:
178
mg
|
Iron:
3
mg
Nutrition information is automatically calculated, so should only be used as an approximation.