Maiale al latte (pork in milk) is a simple dish with amazing flavor from the nutty milk sauce.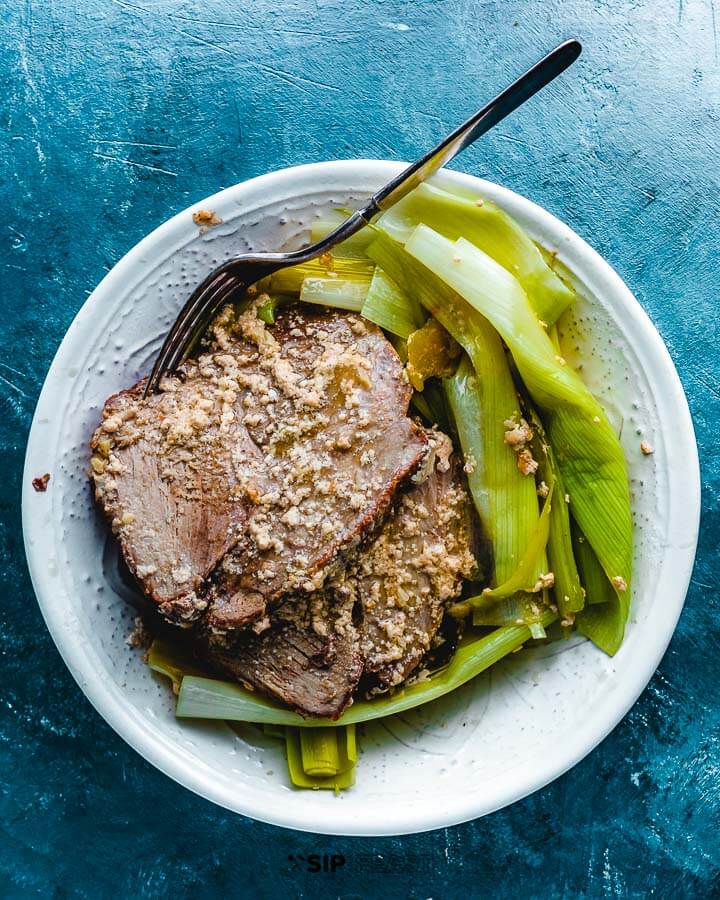 It's really as simple as seasoning the pork with salt and pepper, searing it in a large pot and covering it in milk to braise.
What Is Maiale Al Latte?
Maiale al latte is pork braised in milk. There are plenty of variations on this dish but at its core, it's just pork, salt, pepper and milk. Some recipes call for a pork loin (lonza) while others use various cuts of pork.
This maiale al latte recipe of ours adds ingredients like lemon, white wine, herbs, and chili flakes. They are great flavors that compliment the milk braised pork. We use a pork shoulder for the added depth of fat and to prevent the pork from drying out.
Milk Braised Pork Shoulder Ingredients
4-5 pound pork shoulder – Tying the shoulder up is good practice and helps it stay together during the braising.
2 Tbsp olive oil – For searing the shoulder.
1/2 stick unsalted butter
peel of 2 lemons – A large peel from each lemon.
1/2 tsp chili flakes – Optional or add more if you like it spicy.
10 cloves garlic
1 cup dry white wine – Pinot Grigio works well.
4 cups milk
3 bay leaves
15 sage leaves
salt/pepper
4 leeks – Optional ingredient that can be cooked in the milk right at the end after the roast has been removed from the pot. They are nice to serve as a side to compliment the rich pork.
How To Make Maiale Al Latte Step By Step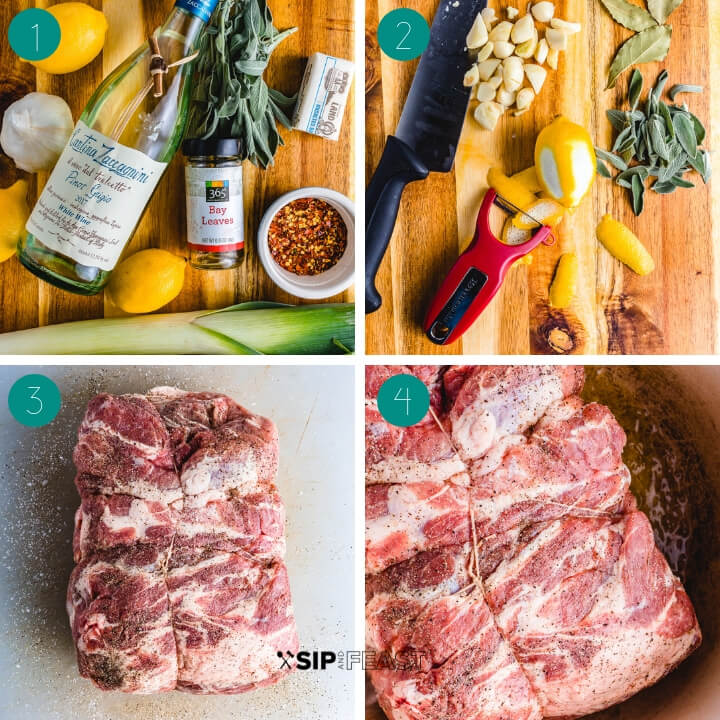 Ingredients shown: lemons, garlic, butter, Pinot Grigio wine, chili flakes, bay leaves, and sage.
Start by removing a big peel from each lemon with a vegetable peeler. Rough chop the garlic cloves. Preheat the oven to 325f and place rack in the middle.
Pat the shoulder dry with paper towels and season aggressively with salt and pepper on all sides. About 1-1 1/2 Tbsp of kosher salt and 1 tsp of black pepper.
Heat a large heavy pot on medium high heat with 1-2 tablespoons of olive oil for a few minutes. Sear the shoulder on all sides (20-30 minutes total).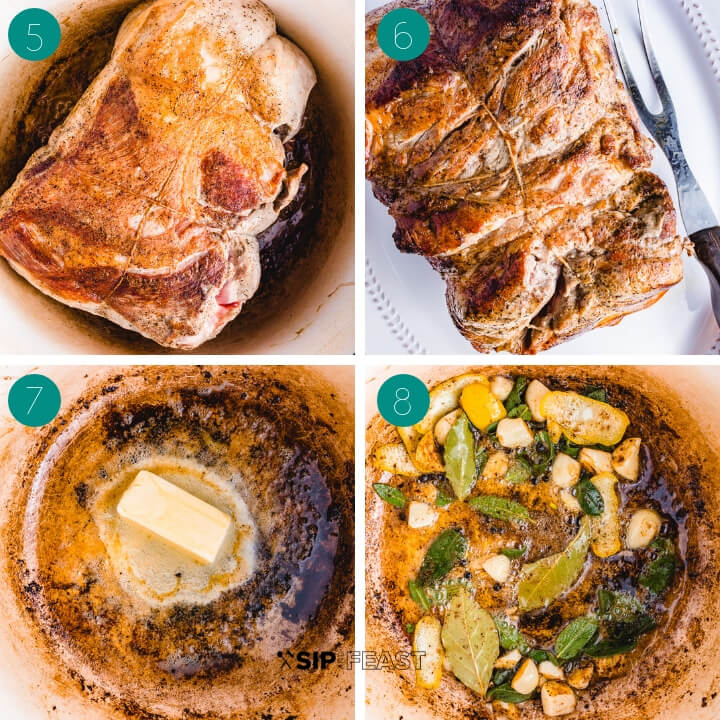 It should be nice and brown on all sides like shown.
Remove the pork shoulder from the pot and set aside. Drain the pork fat from the pot.
Lower the heat to medium, wait 2 minutes then add the 1/2 stick of unsalted butter.
Add the garlic, lemon peel, sage and chili flakes. Saute for 2-3 minutes until the garlic is lightly golden.
Add the wine and scrape the bits off the bottom of pan with a wooden spoon. Let the wine cook for 3-5 minutes.
Add the milk to the pot and stir to incorporate.
Return the pork shoulder to the pot, cover, and place in the oven. Set timer for 2 hours.
If opting to use the leeks, clean and rinse them at this time.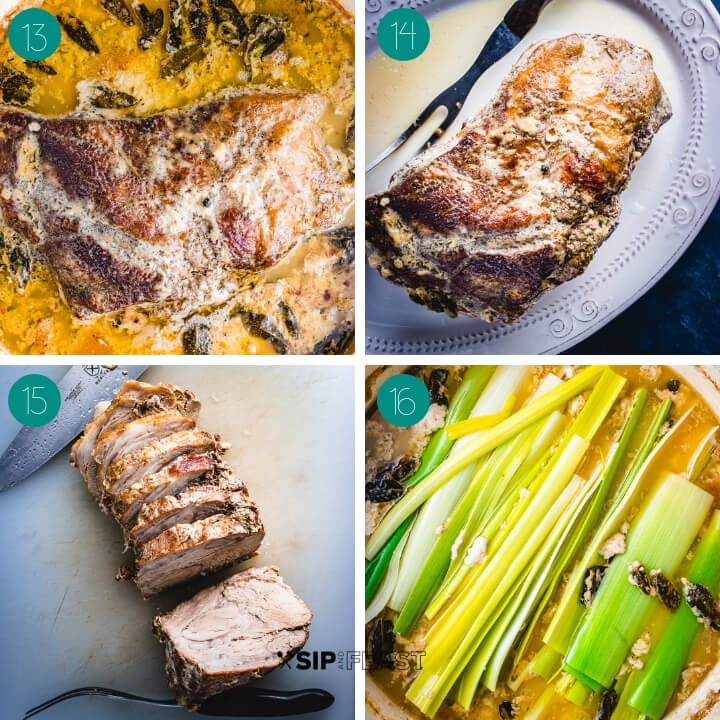 After 2 hours check the pork shoulder temperature with an instant read thermometer. Cooking the shoulder to 185-190f will keep it from shredding, and allow slices, while remaining tender. If you would like to shred it, the shoulder should be cooked to a 205f internal temperature. Crack the lid and continue to cook in the oven for about 1 more hour checking the pork temp every so often.
When the desired doneness has been achieved remove the pork and set aside lightly covered with foil.
The shoulder slices up nicely and remains very juicy when cooked to 190.
If using the leeks place in the pot and cook for 10-15 minutes covered to soften them up. Place the pot on the stove top and remove the leeks. If the sauce is too thin, cook it on medium-high on the stove top for 20 minutes to slightly thicken. Taste test the sauce and add more salt and pepper if required before serving.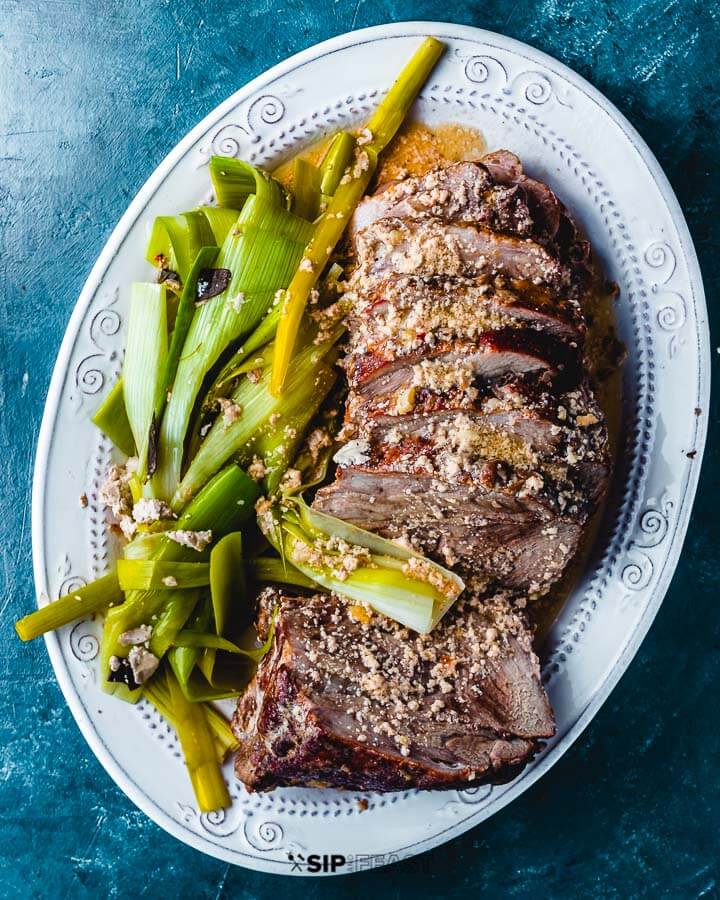 What To Do About The Pork In Milk Sauce Separation
The milk and the curds separate during the cooking process and create, depending on your point of view, a beautiful presentation or something not so desirable. Straining them out is an option. I do not recommend this, as there's a lot of delicious nutty flavor in them.
If you would like to try to take the curds out, add a slurry of corn starch and water to the sauce. Bring to a simmer and whisk the sauce to incorporate. Additionally, adding heavy cream to the sauce will help somewhat. Again, the break down and curd filled sauce is what is desired in maiale al latte. Just ask Marcella Hazan.
What Type Of Pork To Use
Pork shoulder – This is our preference as a lot of pork tends to be quite dry and lack any fat these days.
Pork loin – (lonza di maiale al latte) Try to get a nice good quality loin. Cook the loin to 145f internal.
Pork chops – Double cut pork chops work well in this milk braised pork recipe. Reduce the amount of wine and milk by about 2/3's to just cover the chops. The internal temp on the chops should be cooked to 145f.
Maiale Al Latte Difficulty Level
On a scale of 1-5 with 1 being easy this braised pork shoulder in milk is a 2 1/2. Only thing to keep in mind is the internal temperature, especially if using a pork loin. Remember cook a pork loin to a 145f internal temp. The shoulder, which this recipe calls for, will be much more forgiving. If the temp goes over 200-210f on the shoulder, just shred it. It will still be amazing!
For the sauce, feel free to crank the heat on the stove and reduce it to thicken it slightly before serving.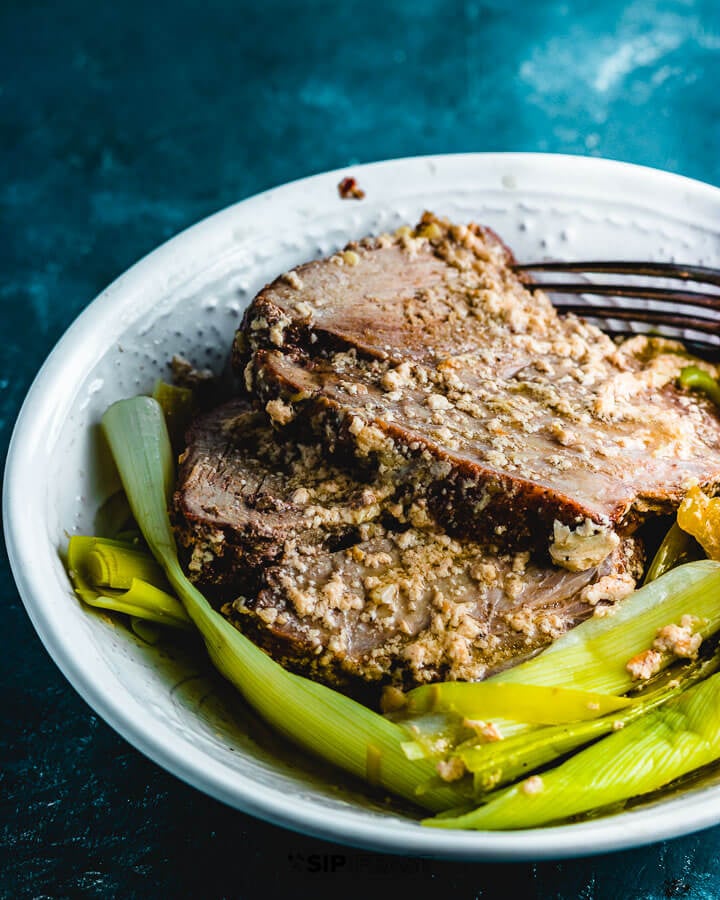 So that's how you make Italian milk braised pork. Don't forget the loaf of crusty Italian bread to sop up all the sauce and caramelized milk curds.
These Light Side Dishes Go So Well With The Rich And Hearty Maiale Al Latte
A simple light salad with oil and vinegar works especially well.
Other Hearty Main Courses:
DID YOU TRY THIS RECIPE?
Give it a star rating.
Please share this maiale al latte recipe using #sipandfeast.
We would love to know how you did and it's nice to show others as well. Thanks!
Follow us on Instagram, Pinterest, and Facebook. Sign up to receive great recipe ideas in your inbox.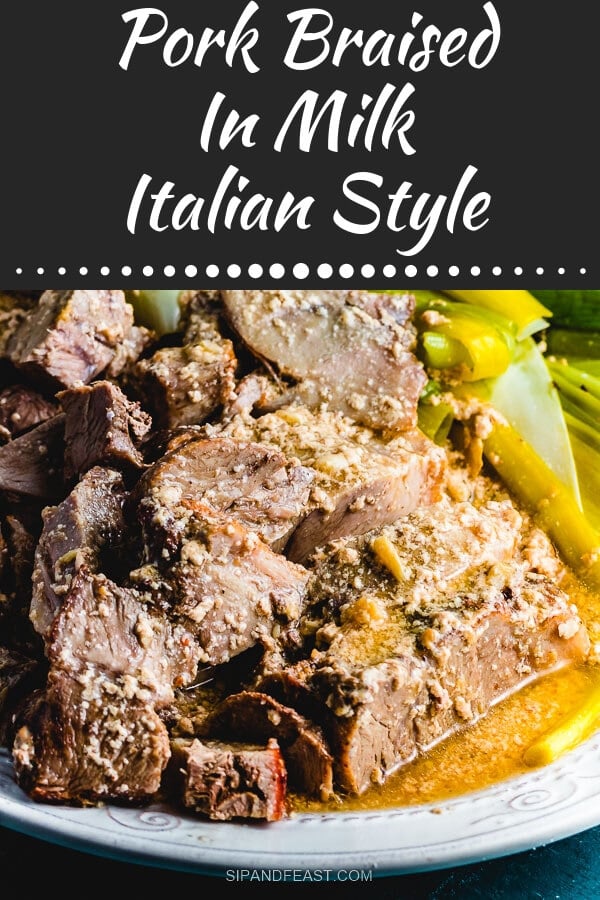 Maiale al latte (pork in milk)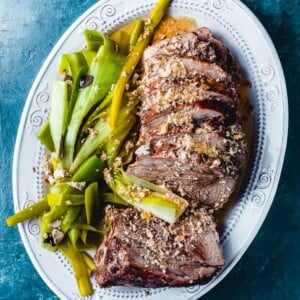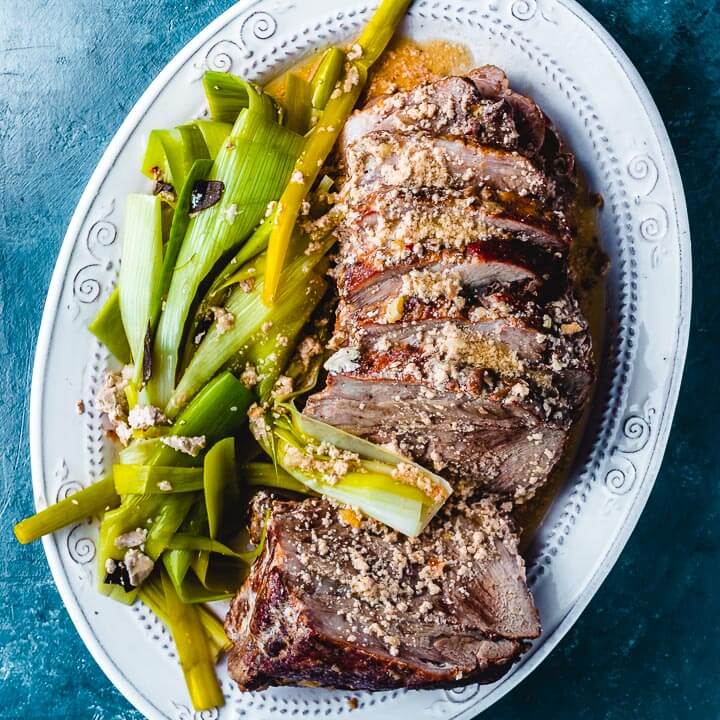 Pork shoulder braised in milk, wine, lemon, garlic and herbs. Makes the perfect hearty dish for a Sunday dinner.
Ingredients
1

5 pound

pork shoulder

2

Tbsp

olive oil

1/2

stick

unsalted butter

2

large

lemons

10

cloves

garlic

1

cup

dry white wine

4

cups

milk

3

bay

leaves

15

sage

leaves

1/2

tsp

crushed chili flakes

4

large

leeks
Instructions
Rough chop garlic. Remove the lemon peel with a vegetable peeler. Dry pat and season the pork shoulder aggressively with salt and pepper (about 1 Tbsp kosher salt and 1 tsp black pepper) on all sides.

Preheat oven to 325f and place rack in the middle. Heat a large heavy pot to medium-high heat and add 2 Tbsp of olive oil. Sear the pork shoulder on all sides until fully browned (about 20-30 minutes).

After shoulder is well browned, remove and set aside. Remove the pork fat from the pot by draining or with paper towels. Turn heat to medium and add the butter, garlic, lemon peel, sage, bay leaves and chili flakes. Cook for 2-3 minutes, then add the wine and cook for 3-5 minutes more. Scrape the bottom with a wooden spoon to remove all the good flavor bits.

Add the milk to the pot and stir it all together. Place the pork shoulder back in the pot and cover. Place in the oven and set timer for 2 hours. Turn the pork over at 1 hour mark to achieve more even cooking. After 2 hours, crack the lid and continue to cook until the pork shoulder achieves a 190f internal temperature.

When 190f has been achieved remove the shoulder and set aside lightly covered with foil. If using the leeks add to the pot and cook for 10-15 minutes until soft. Taste test the sauce and adjust salt and pepper if necessary. Slice the pork and serve with the milk sauce on top. Enjoy!
Notes
If the sauce is too thin before serving, remove the pork and either cook it for 20-30 minutes longer on the stove top or add a slurry of cornstarch to thicken.
Salt and pepper was initially used on the shoulder prior to searing, but no other salt was added to the dish. Adjust accordingly by taste testing the sauce right before serving and making final adjustments.
For any other pork cut, cook to an internal temperature of 145f. For the shoulder, 190f is the goal.
Serve with crusty Italian bread for the sauce.
Leeks are optional.
Nutrition
Calories:
669
kcal
|
Carbohydrates:
9.2
g
|
Protein:
47.3
g
|
Fat:
48.8
g
|
Saturated Fat:
18.6
g
|
Cholesterol:
187
mg
|
Sodium:
782
mg
|
Potassium:
735
mg
|
Fiber:
0.7
g
|
Sugar:
4.9
g
|
Calcium:
130
mg
|
Iron:
3.2
mg
Nutrition information is automatically calculated, so should only be used as an approximation.