A porchetta roast is simply one of the best Italian meat dishes you can make! It can be a little challenging, but don't worry! I'll show you how to make an easy one with step by step instructions below.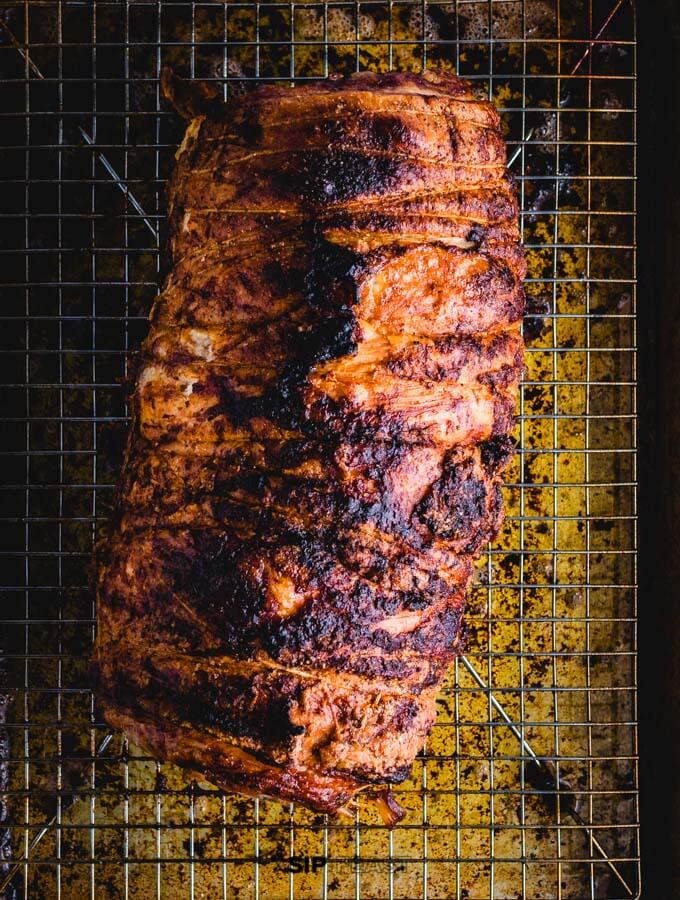 I know you might have heard of porchetta. Some people spell it porketta. Both names refer to the same thing.
What Is Porchetta?
As far as the original porchetta goes, it consists of a whole 1 year old de-boned hog stuffed with fennel, garlic, oranges, herbs, liver and some other common Italian ingredients. Like all dishes in Italy, it has regional differences.
It's served in white vans in parts of Italy and is often eaten during holidays.
And though the tradition was brought into America, like many others it evolved into something uniquely Italian-American.
I'll be making a more modest version: a baked pork belly porchetta roll stuffed with most of the same spices and herbs but in an easier way. If you love a dish like this, but desire a quicker and much easier recipe, check out this Instant Pot Pulled Pork! It has the same orange and fennel flavors that make this porchetta so amazing!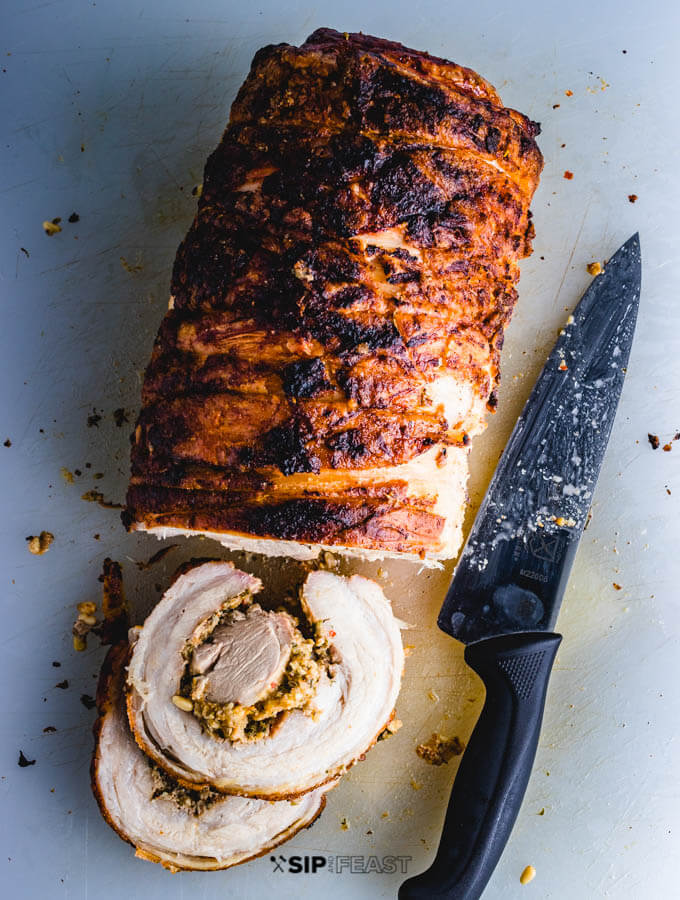 Porchetta roll is great served for the holidays but awesome really on any day. Leftovers can be served on Italian bread with some fresh mozzarella or provolone and cherry peppers. And you will definitely want leftovers!
It's one of those dishes like Sunday Sauce and Meatballs or Beef Braciole With Raisins that are so hearty and just perfect for a large family.
Porchetta Roll Ingredients:
6-8 pound pork belly – Try to get the belly with the skin on. In the pics, I used a belly that did not have it on. I've made them both ways and the skin on belly is definitely preferred.
2 pound pork loin – The belly gets rolled around the loin.
1/4 cup pignoli nuts
2 Tablespoons fennel seeds
1 Tablespoon crushed red pepper flakes – 1 Tbsp is a good amount to start with but use more if you like it spicy.
1 cup breadcrumbs
8 cloves garlic
2-3 oranges – the zest and the juice will be used.
2 Tablespoons chopped fresh rosemary
1/4 cup chopped fresh parsley
1/4 cup olive oil
salt/pepper
butcher twine – the string to tie it all together.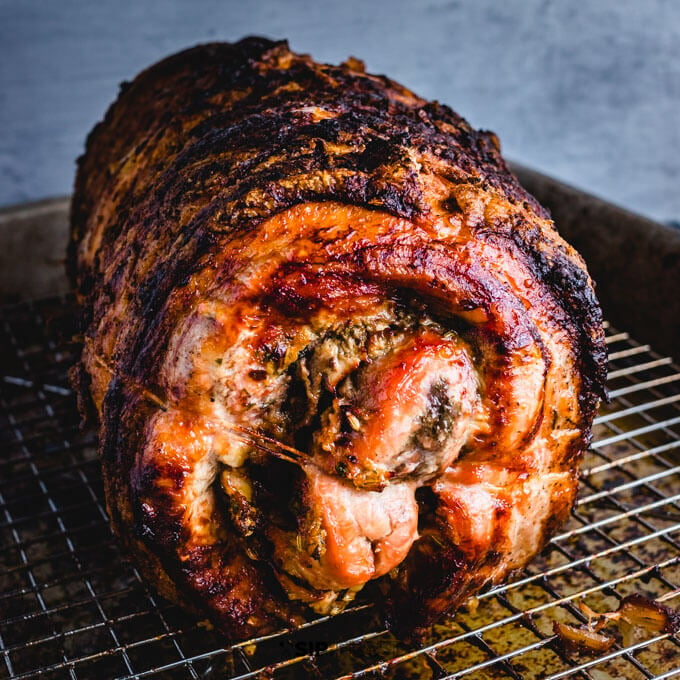 How To Make A Porchetta Step By Step: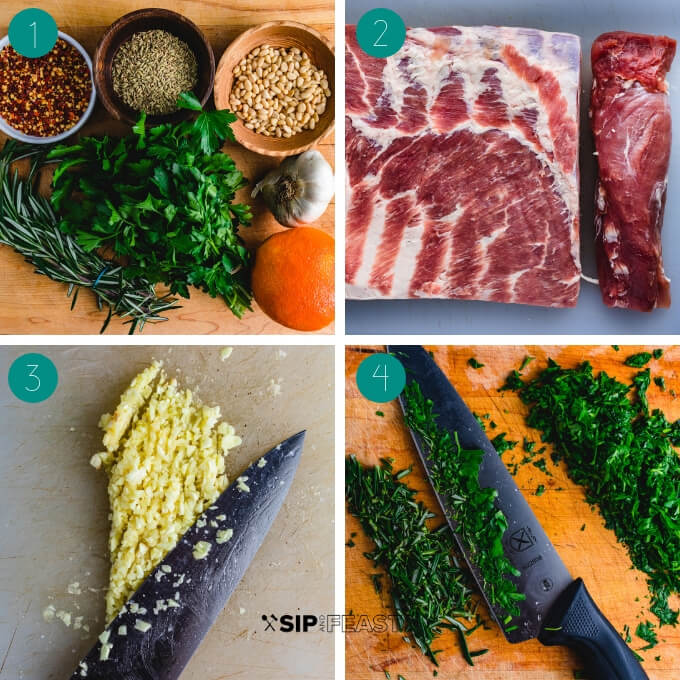 Picture of the herbs, spices, oranges, and pignoli nuts.
Pork belly skin side down and a pork loin that will fit exactly in the middle. Basically place the loin in and do a practice roll to make sure everything fits. Trim excess belly or loin to make one full roll with no overlap.
Make a paste of the garlic and/or mince well.
Chop the fresh parsley and rosemary.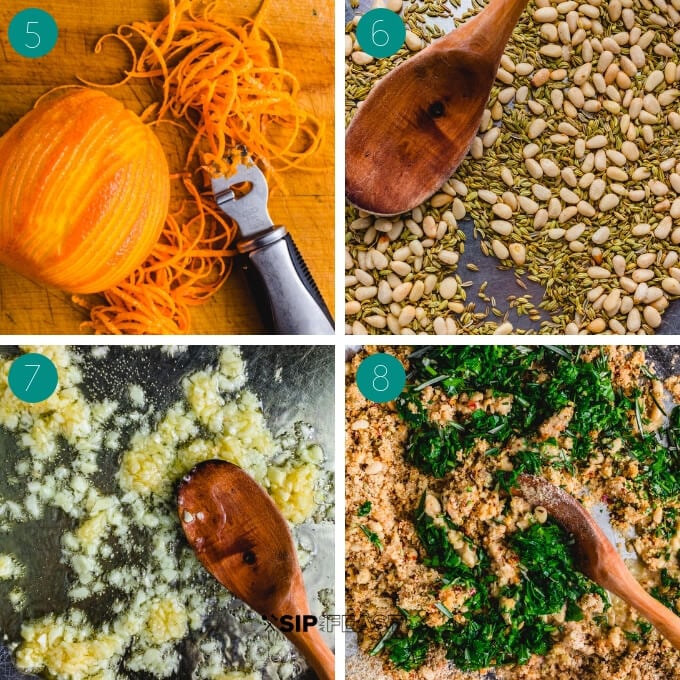 Zest 2 oranges. Depending on their size you might need 3. The goal as shown below will be to get the zest fully distributed.
Dry roast the pine nuts and fennel seeds on medium-low heat watching carefully to not burn. About 5-10 minutes. After lightly toasted, set aside off heat.
Add a 1/4 cup of olive oil to a clean pan and saute the garlic for 2-3 minutes over medium heat.
Add the breadcrumbs, chili flakes and herbs. Next, add the pine nuts and fennel seeds along with the juice of 2 – 3 oranges. Mix well to make a nice wet paste. Set aside.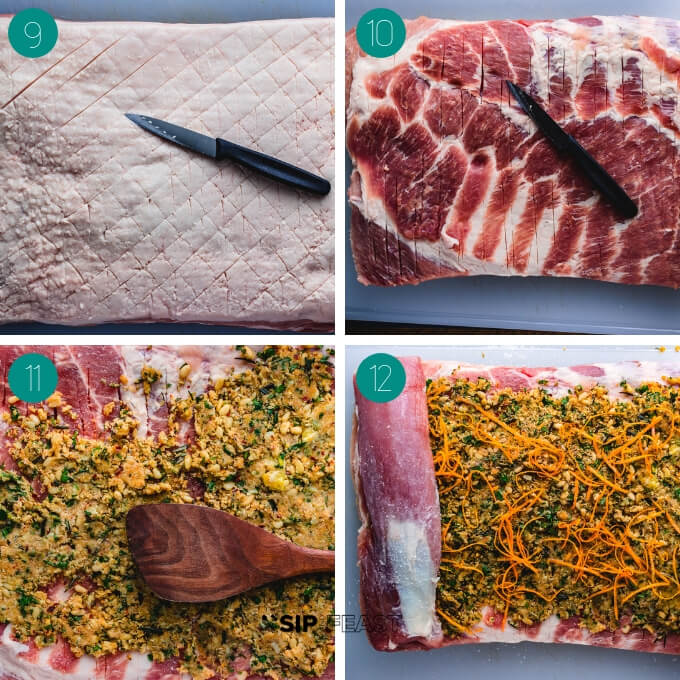 Make some cross hatches with a sharp knife on the fat side of the belly.
Turn the belly over and make cuts about a 1/4″ deep on the non belly side. These cuts are for the stuffing. Salt the non fat side belly with 1-2 teaspoons of kosher salt.
Place the stuffing paste on the non fat side and really press it in.
Sprinkle the orange zest evenly. Salt the loin and place it on one side to begin the rolling process.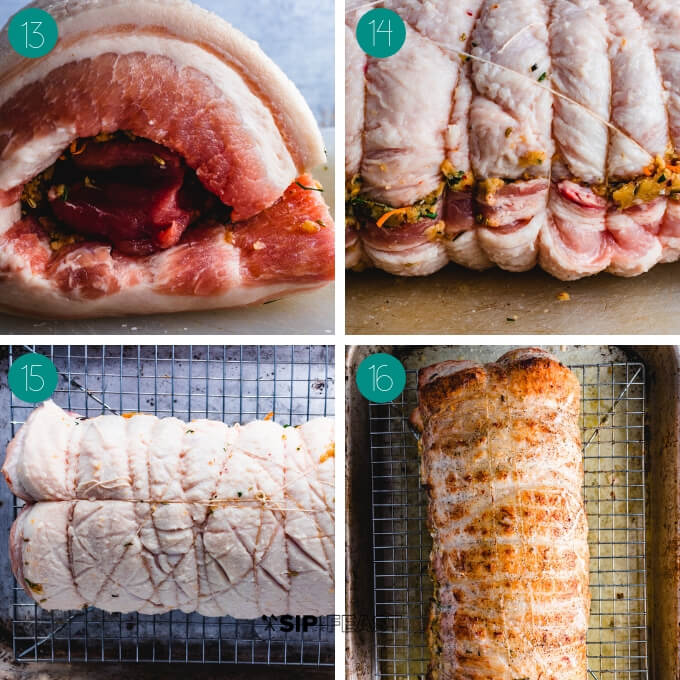 Heat oven to 500f and place rack at lower third of oven. Picture shown is a side shot of the belly rolled around the loin.
Tie it up with as much twine as it takes to get it nice and tight and held together. Make an initial tie in the middle and the sides, then go back and wrap it up all over.
Place the porchetta roast on top of a wire rack in a baking tray. The best thing to do at this point is to refrigerate it overnight to dry out the skin, and then cook the next day. If not able to do this just make sure to really dry it well on all sides with paper towels. Sprinkle 2 Tablespoons of salt all over the skin and add 1 cup of water to the pan making sure that the roast does not touch the liquid. Bake in oven for 45 minutes at 500f. Turn the roast at halfway point.
After 45 minutes turn the heat down to 300f and roast until the internal temperature reaches 145-150f. Turn the roast every 30 minutes or so to achieve even cooking on all sides. Depending on the size of the roast it should take around another 3 hours. Check the porchetta's temperature occasionally with an instant read thermometer. Get an accurate reading by checking right in the center of the roast. Once done, let the porchetta roast rest for 30 minutes before serving. One final note – if the skin needs a little crisping, broil it for 5 minutes at the end.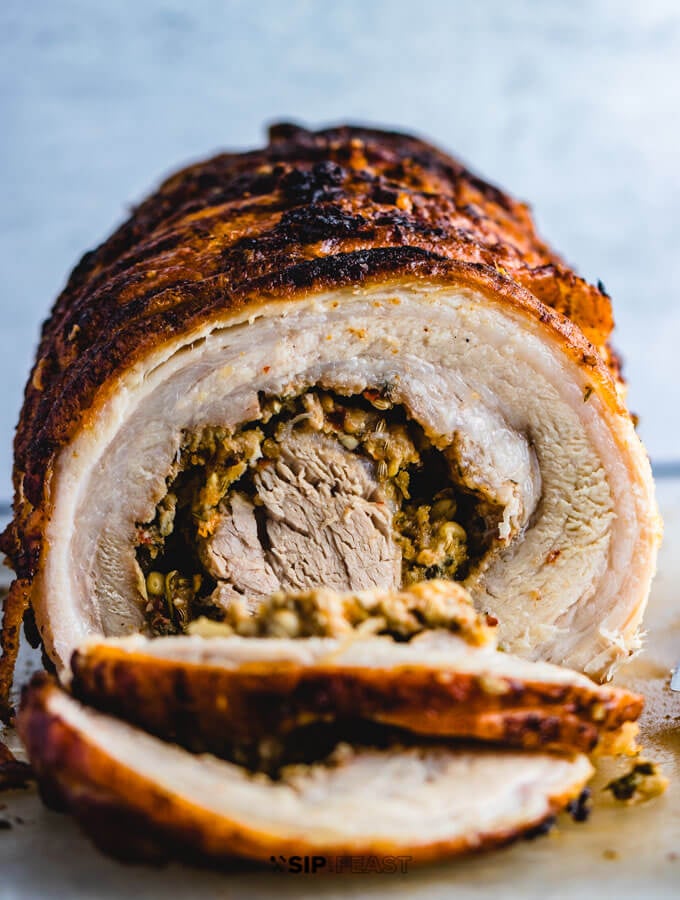 So That's How To Make A Porchetta:
A couple of quick notes:
Try to get a skin side on belly. The belly for these pics is from Costco and they often sell it with the skin or rind removed. It was sold that way in Minnesota and New York, though it might be different in other parts of the country. If you call your butcher ahead of time they can order you a belly with the skin intact.
No two Porchetta recipes are the same – the filling I used has the traditional fennel and orange flavors, but use what you like. Whole oranges thinly sliced can be layered inside instead of the zest and juice like this recipe has.
Also, I like the whole fennel seeds and do not grind them. Many recipes grind the seeds – use a coffee grinder to do so if desired.
Porchetta Substitutes:
A full pork loin butterflied and rolled with the same porchetta seasonings is excellent as well and definitely easier to make.
The trick when doing a pork loin is to really watch the temp and to not overcook it as it can dry out. The reason a porchetta is so good is that the fat of the pork belly keeps everything moist, but again a pork loin done right can definitely be a nice substitute.
Another good option is a pork butt with the bone removed. Flatten the pork butt by slicing it open and stuff it with the spice and paste mixture. When stuffing it, make sure to keep the fat cap down so that the butt can get a crispy skin just like a pork belly porchetta.
Porchetta Seasonings:
Sage, thyme and lemon are all nice seasonings to use. Instead of store bought breadcrumbs, soaked day-old bread can be used for the stuffing. Another great ingredient to add are some Italian meats sliced real thin. Prosciutto or Mortadella work especially well. Layer the thin slices on the stuffing before rolling.
I always change up recipes with other great tasting Italian ingredients. As you get a feel for what goes together, feel free to make recipes all your own. Basically use this recipe as a rough guide and then adjust it for yourself.
If you don't like fennel, simply don't use it. Want some cheese in it? Go for it! That sounds great just thinking about it! Some layered provolone would be awesome. In fact, in Philadelphia Porchetta sandwiches are often served with provolone and broccoli rabe on Italian bread. Adding some cherry peppers to that would definitely be a good idea!
Porchetta Cooking tips:
Leave the pork belly in the fridge for 2 days, uncovered. This drys out the skin and makes a crispier porchetta.
If using a skin intact belly (you should when possible) use a sharp knife to make crisscross cuts on the skin side or just puncture the skin with the knife. This allows the roast to get crispier when cooking due to the fat dripping in the crevices. A meat mallet also works well.
When the porchetta is tied up and ready for roasting, dry it one more time with paper towels to suck up any remaining moisture. Add the salt and get it in the oven.
Some white wine or water at the bottom of the pan helps keep the porchetta roll nice and moist. Just make sure the liquid does not touch the roast. Use a wire rack to keep the roast elevated.
Adding some root vegetables and potatoes to the bottom of the pan is a great idea for a full meal. If doing this, hold off on the liquid and add the veggies during the last hour and fifteen minutes. The fat drippings from the porchetta will season the veggies very well.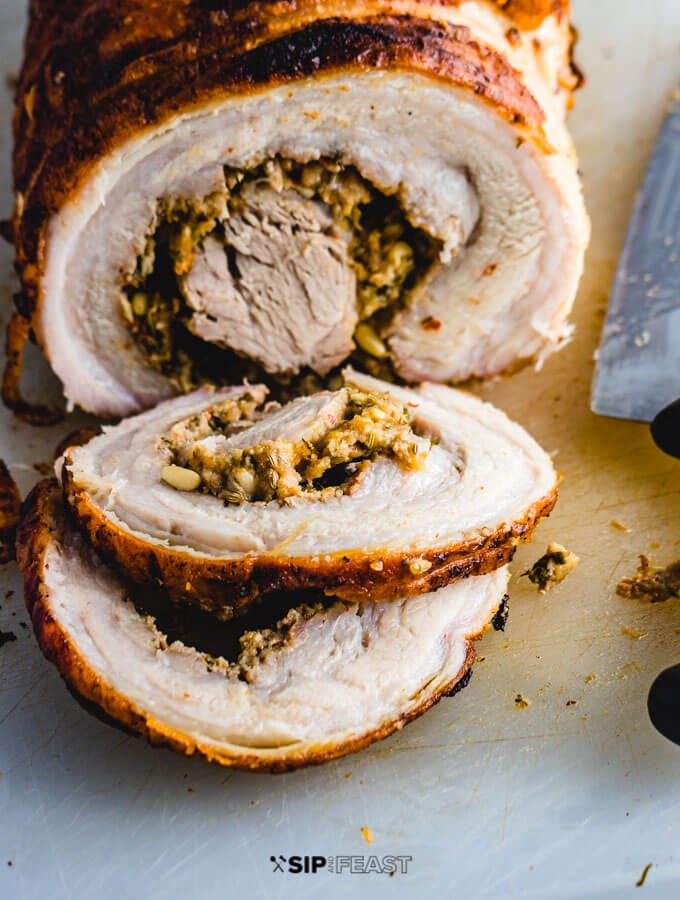 Difficulty Level:
On a scale of 1-5 with 1 being super easy this recipe is a 3.5. There is really not much to making this but I'm giving it a 3.5 because it's a bit more involved and requires more time. It's not a meal you're just going to whip up on a random weeknight because it does require some advanced planning and prep, especially if you're drying it out in the fridge overnight. Therefore, this is a perfect holiday or special occasion main course. If you're looking for an easier pork dish with a similar flavor, try our Italian stuffed pork loin.
That being said, the fat from the pork belly creates an ultra moist roast that is quite forgiving even if overcooked slightly. Aim for 145-150 directly in the center.
The only potential issues are:
Make sure to dry the skin really well so the porchetta gets crispy. If the skin is not quite crisp enough at the end broil for 5 minutes and it will be perfect. Just watch for grease splatter when broiling. Whenever broiling anything make sure to have your eyes on the oven.
Tie the porchetta as tight as possible so that it all stays together. You can see I probably needed to tie mine a little tighter. The loin on the inside will shrink a little creating an air gap so really cinch down on the string and make sure to use a strong one.
What To Serve With Italian Porchetta?
I like something light with the strong porchetta flavors. Check out these light veggie sides:
Drinks:
White wine, specifically Sauvignon Blanc, is probably the best pairing for this roast porchetta. Although a lighter red, such as a Pinot Noir, could also pair well.
These cocktails would also be amazing:
DID YOU TRY THIS RECIPE?
Give it a star rating.
If you liked this Italian Roast Porchetta recipe we'd really appreciate it if you would share it on Instagram or Facebook using #sipandfeast.
We would love to know how you did and it's nice to show others as well. Thanks!
Follow us on Instagram, Pinterest, and Facebook. Sign up to receive great recipe ideas in your inbox.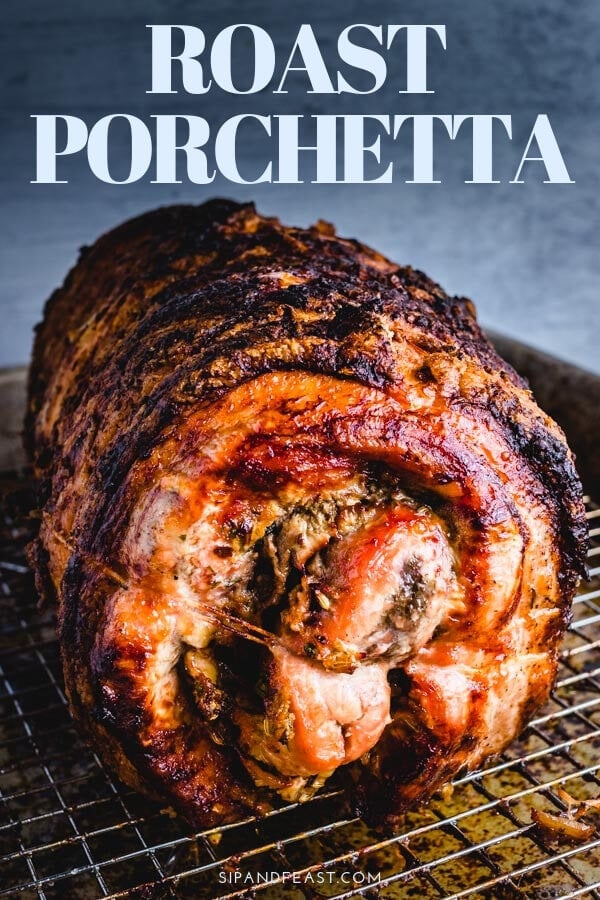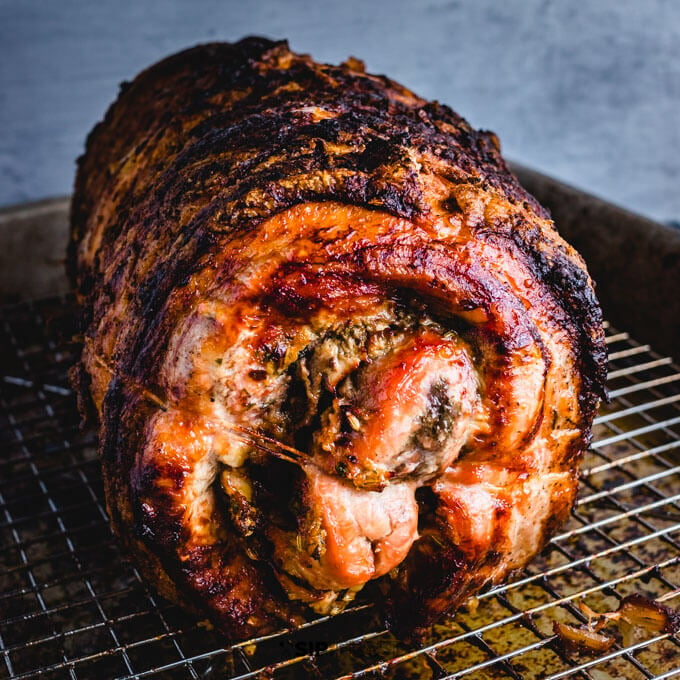 Delicious porchetta roast with fennel, pine nuts, oranges, garlic and fresh herbs.
Ingredients
1

6-8 pound

pork belly

2

pound

pork loin

1

cup

breadcrumbs

1/4

cup

pignoli nuts

2

Tbsp

fennel seeds

1

Tbsp

crushed red pepper flakes

8

cloves

garlic

3

large

oranges

2

Tbsp

fresh rosemary

1/4

cup

fresh parsley

1/4

cup

olive oil

3

Tbsp

kosher salt
Instructions
Preheat oven to 500f and move rack to lower third. Dry off pork belly skin and trim the belly and loin to fit together for one complete roll. Mince 8 cloves of garlic, zest 2 oranges and chop the parsley and rosemary. Toast the fennel seeds and pignoli nuts in a pan on medium-low heat for 5-10 minutes being careful not to burn. When toasted set aside.

In a clean pan saute garlic in a 1/4 cup of olive oil on medium heat for 2-3 minutes. Add the breadcrumbs, chili flakes, herbs, pignoli nuts, fennel seeds and the juice of 2 oranges. Mix well to form a paste. Set aside.

Score dry pork belly in crisscross pattern on skin side. On other side score 1/4" deep lines into the pork. Season the non skin side with 2 tsp of kosher salt. Next place stuffing mixture onto meat and evenly distribute it by pressing it into the meat. Sprinkle all of the orange zest on top.

Season pork loin with 1 tsp of kosher salt and place on one side of belly to start rolling. Roll the porchetta tightly and tie off every 1" or so to make a uniform cylinder.

Dry the porchetta one last time with paper towels, then season with 2 Tbsp of kosher salt. Rub it into the skin all over. Place the porchetta on a wire rack inside a roasting pan. Inside the roasting pan pour 1 cup of water making sure that the liquid does not touch the roast.




Roast the porchetta in the oven for 45 minutes on 500f turning once at halfway point. After 45 minutes turn heat down to 300f and continue cooking until 145-150f internal temperature is reached. Make sure to rotate the roast every 30 minutes to achieve even cooking. For an 8 pound roast it should take 2.5-3 hours more.

When finished remove from oven and let rest for 20-30 minutes before serving. Remove twine, slice and enjoy!
Notes
Try to use skin on pork belly - the dish is still excellent without.
Make sure to salt the belly on both sides and the loin.
To get a perfect cook check internal temperature with an instant read thermometer every so often.
Nutrition
Calories:
795
kcal
|
Carbohydrates:
6.3
g
|
Protein:
76.3
g
|
Fat:
47
g
|
Cholesterol:
193
mg
|
Sodium:
650
mg
Nutrition information is automatically calculated, so should only be used as an approximation.